Human Rights Report for October 2008.
Attacks on Kilinochchi town area with aerial bombing and artillery fire resulting in large scale displacement of the town dominated the month of October. Civilian infrastructures in town came under targeted aerial bombing. Heavily used routes into and inside Kilinochchi were also targeted with aerial bombing and shelling. Areas near the SLA Manalaru camp also came under frequent artillery fire causing displacement.
Health of IDPs and education of IDP children are also of concern to the local health and education authorities. Updates on the IDP situation are not covered in this report but will be updated in separate reports. The health situation was dealt with in an October NESoHR report.
Civilian toll for the month of October are: killed-63; disappeared – 24; injured – 71; and arrested 304. Among those killed are two children and among those the injured are 13 children, all under the age of 16. Majority of the disappearances took place outside the tamil homeland and 105 of the arrests were also outside the Tamil homeland.
Note : The statistics given do not include all of the civilian causalities during the month of October due to limitations on the resources available to NESoHR which are caused by many factors including restrictions on fuel, restrictions on office equipment, and disruption caused by large scale displacement.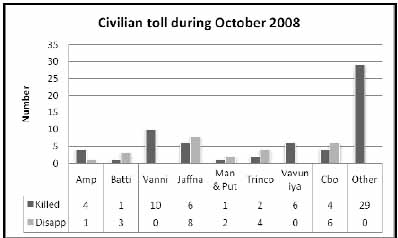 Kilinochchi town attacks:
During the first week of October, kilinochchi town was subjected to extensive aerial bombing. A computer service center (KNC), tamileelam police head quarters, LTTE peace secretariat were among the well known buildings that were damaged destroyed during this week. Also damaged were, a home for the mentally ill women and the kilinochchi branch office of CWDR (Centre for Women Development and Rehabilitation). These attacks started the massive displacement of the people from the town. Following this bombing the town also came under heavy artillery fire. Ten civilians, including two children, were killed and 39 civilians, including seven children, were injured by these attacks on Kilinochchi. The shells also exploded inside the Kilinochchi district hospital complex on two occasions and one of these attacks damaged the hospitals outer wall. Five such attacks were covered in NESoHR reports released in October and early November.
Disruption of transportation:

During October, the part of the A9 route from vavuniya to vanni came under several aerial and artillery attack causing disruption to travelers and more importantly to the food convoys destined for the IDPs.
On 1 October, the route from vavuniya to Kilinochchi that was in use until then was permanently closed following artillery fire by the SLA. Subsequently anew route detouring form Mankulam through Oddusuddan , puthukkudiyiruppu was announced by the SLA and was used for one food convoy. This route includes a large bridge over the Kanarayan river. On 10 October this bridge was bombed (see photos above) cutting off vanni yet again. Again a new route was announced detouring at another point to pass through the same two places, namely Oddusuddan and Puthukudiyiruppu. This route also crosses the Kanarayan river and thus another bridge over it. This bridge, which had been weakened by landmines placed by the SLA a few weeks earlier, collapsed on 13 October when a food convoy attempted to cross it. It was quickly repaired but faces danger of collapsing again.
Civilian killed in October