Kilinochchi city bombing
A populated civilian area in Kilinochchi city came under aerial bombing on Saturday 27, September 2008, at 12.10pm, killing a father and injuring seven more civilians. Among the injured are four babies. Two of the injured babies are children of the man killed in the same bombing. The mother of the children was also injured. The family was travelling on the road when they were hit by the bombs. The other injured civilians are resident of the area.

The bombing took place in Raththinapuram just 300 meters form the main junction of Kilinochchi town (see map) and the smoke rising from the bombing site could be seen form the town center. Kilinochchi town that includes Raththinapuram is densely populated with 25,000 people. A Hindu temple is among the buildings damaged by the bombings.
Family of Sathees killed and injured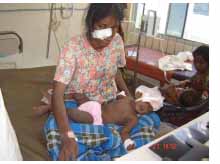 Killed          : Ranganathan sathees, male aged 26
Injured        :
Sathees thanusika, female baby aged 8 months
Sathees Thanushan , amel child aged 2 years
Sathees Arudchelvi, female aged 27 years
Other injured
Kannthirasa Thuvaragan, male baby aged 8 months
Jesuthasan Daisy, Female aged 42 year old
Gnanam Reka, Female aged 27 years
Reka's baby aged two years
Manikkapillai Mangalasawary, female aged 62 years
Repeated bombing of Kilinochchi city
There have been five aerial bombardments within one kilometer radius of the mani junction of the Kilinochchi city as shown in the map below. Each of them caused extensive civilian casualities and building damages. The location of the bomb sites are shown in the map and the details of the damages are given in the table below.
There are three large schools each with an enrolment in excess of 1000 students within this one kilometer radius. In addition there are several preschools. The main market and the main bus stand are within this one kilometer radius. The largest hospital for the district is also situated within this one kilometer radius.
The district  secretariat which is the main local government office is also inside this area. That should give some idea about the density of the people who would have been in this area of one kilometer radius when the place was bombed.
In all likelihood, as the war focused on Kilinochchi continues, Kilinochchi town in going to see many more such bombings, causing extensive civilian causalities and damages.