Full name: Sanmuharasa Kaventhini
Address: Idaikkadu road, Vallipunam
Occupation: Student
School: Mullai. Udayarkaddu
Mahavidyalayam
DOB: 07.06.1989
Age (then): 17
Marital status: Single
Family details: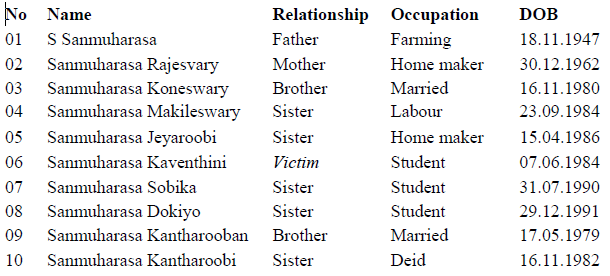 Account from a relative:
Mother:
My Daughter Kaventhini was studying in Udayarkaddu Mahavidyalayam. She was following her Advance level. She was
very clever in her classes and sports. We never were an obstacle to her decisions. I sent her to attend the leadership workshop when she wished to participate. The Senchcholai complex where the workshop was held is a little far from our home. I went there and met her just one day before the Kfir attack. Soon after the Kfir attack, the injured girls were being carried in vehicles past by our home. I was searching for my daughter among the crowd of people. There was a lot of smoke and blood-stain. I returned home with empty hand. That evening they brought my daughter as a dead body. I would have never agreed for her to attend the workshop, if I had known that this would happen to her.