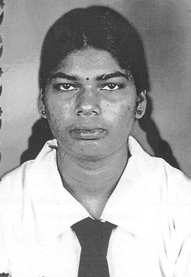 Full name: Thampimuthu Thayalini
Address: Thodiyadi Visuvamadu
Occupation: Student
School: Mullai. Visuvamadu M.V
DOB: 19.05.1986
Age (then): 20
Marital status: Single
Family details:

Account from a relative:
Mother:
My daughter was injured the Vallipunam Kfir attack on 14 August 2006. Then she was admitted in Kilinochchi hospital. She was changed to Vavuniya hospital for further treatment. Unexpectedly on 28 September 2006, she died in Vavuniya hospital. Even if she was alive as disabled, we would have looked after her. But, now we lost her entirely. We faced a lot of problems to bring her body from Vavuniya to here. Then the court ordered to bring her dead body here on her father's bail. After her body was brought home to hold the funeral rites the court ordered that her body must be sent back to
Vavuniya for burial.