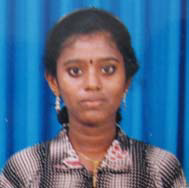 Full name: Thuraisingam Thutharshini
Address: 10th ward, Puthukudiyiruppu
Occupation: Student
School: Mullai. Puthukudiyiruppu M.V
DOB: 28.07.1989
Age (then): 17
Marital status: Single
Family details:

Account from a relative:
Mother:
My daughter Thutharsini was the most studious of all my children. She was a very decent girl. Our family is poor but I educated her till Advance Level. At that time, she was studying in Puthukudiyiruppu Mahavidyalayam. She asked permission to attend a leadership workshop. First I refused but later I permitted her to attend because all of her friends and other school students were also to attending the workshop. On 14 August 2006, at 7.30 am the Kfir fighter jets were
attacking Puthukudiyiruppu. We thought our daughter would be safe with the other girls. But later they said the location where my daughter was attending the workshop was targeted. Then we went to hospital to find out about my daughter. We could only see her dead body at the hospital. We had big hopes to see her achieve a lot in the future even though we are a poor family.