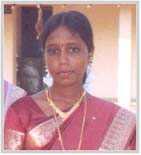 Full name: Markupillai Kelan Suthajini
Address: Unnapulavu, Mullaithivu
Occupation: Student
School: Mullaithuvu Mahavidyalayam
DOB: 14.07.1988
Age (then): 18
Marital status: Single
Family details:

Account from a relative:
Causin (Polinamayoori):
Kelan Suthajini is my husband Jeyasuman's sister. She was studying GCE Advance Level at Mullaithivu Mahavidyalayam. She went to Vallipunam complex to attend a leadership workshop. Then on 14 August 2006, at 7.30 am the Kfir fighter jets attacked Puthukudiyiruppu. After the attack my husband went to find out about the situation. He knew that the Senchcholai complex was under attack by the Kfir fighter jets. He went there and found that she was admitted to the Kilinochchi hospital. Then he left to the hospital. But, she had died. She was injured in her face and her left leg was
severed from the body. The government deliberately killed her in her teenage although she could have achieved a lot.